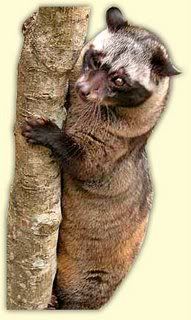 "KOPI LUWAK" coffee is Original comes from Indonesia at island of Sumatra, Which is recognized as one of the best place of Coffee.
and "LUWAK" is small palm civets or called Paradoxurus hermaphroditus in scientific name. A Small Mammals live in a tree and its favorite food is red, ripe coffee cherry. this Luwak is very clever animal to select of the best coffee and the most mature one.
They eat only the ripest coffee cherries, bean and all.
Meanwhile when bean is in Luwak's Stomach, Enzymes in their digestive system break down the flesh of the fruit before the animals expel the bean. and out with luwak's Poop. The Process of the stomach acids and enzymatic action involved in this unique fermentation process produces the beans for the world's rarest coffee beverage.
And the farmer worker collects it from forest floor, and is clean up the dung, then they roasted the Kopi Luwak.
That's what makes Kopi Luwak a very special, and the taste is very earthy flavours.
Check out the ranking of the 10 (ten) most expensive coffee in the World at Forbes.com :
1. Kopi Luwak,Indonesia, $160/pound
2. Hacienda La Esmeralda from Boquete,Panama, $104/pound
3. Island of St. Helena Coffee Company,St. Helena, $79/lb
4. El Injerto Huehuetenango,Guatemala, $25-50/pound
5. Fazenda Santa Ines, Minas Gerais,Brazil, $50/lb)
6. Blue Mountain, Wallenford Estate,Jamaica, $49/pound
7. Los Planes , Citala,El Salvador, $40/pound
8. Kona, Hawaii, $34/pound
9. Starbucks Rwanda Blue Bourbon, Gatare/Karengera,Rwanda, $24/pound
10.Yauco Selecto AA, Puerto Rico, $22/pound
and the winner is KOPI LUWAK from Indonesia !
So don't miss to taste this World Best Coffee "Kopi Luwak" in the World.
Enjoy Your Time, Have a Nice Day